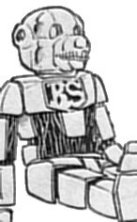 Professor Peter Summerton, a well-known and excellent scientist, lost his son as well as his daughter-in-law at a plane crash.
He had to look after his grandson David now.
As if destiny hadn't hit out yet enough, he lost his job short time later, too.
Prof. Summerton sold his house and moved into that one of his deceased son to be able to take better care of his grandson.
He couldn't overcome the death of his parents and withdrew into his shell more and more.
At a walk Prof. Summerton found a comic named "Bobbie Bear" and came onto the idea of creating a playfellow for David.
With the help of his last project (the reason for his dismissal) and some modifications to this he managed to create a being, completely of steel and circuits, a robot teddy bear named "Bobbie", a comforter.
But the unexpected happened!
George, a curious neighbor triggered an explosion, through which the programming of Bobbie's circuit got mixed up.
The robot started to live, and to give himself a personality of its own and a name of its own: Boris!
David infected Boris with the virus of reading comics in which he didn't leave it and also started with collecting the picture stories.
David's room, where Boris also lived, got too small soon.
So the bear moved into David's old but converted tree house in the garden.
After some time he got cross because more and more series were published which tried to crack the success of b/w-mutant comics ala Turtles.
Of course this couldn't be left so, somebody had to do something against this and only one could be the one: Boris!
This first adventure goes down in history as the destruction of all "Teenage Radioactive Black Belt Mutant Ninja Critters" and led to a known result: the collapse of the b/w comic-market!But this was only the beginning ...